Nat Radio Co. - Free software and information!
Fossil Collection

Most of the fossils shown here were discovered in New Jersey, beginning September 2006. The collection is continually growing larger, so stop by often to see new finds. My primary interest is fossil shark teeth, so this page mostly showcases shark (Chondrichthyes) teeth fossils and related items, such as sea creatures (flora and fauna) from the late Cretaceous period. Notice that the identification process has not been completed for many of the items, especially for most of the shark teeth. Please understand that I am neither a paleontologist, nor a geologist, so any corrections or comments via e-mail are welcomed and appreciated. In the first year, the collection grew to more than 500 specimens, and included more than 250 fossil shark teeth! After three years, the collection has grown to more than 1,000 specimens, and includes more than 500 fossil shark teeth! About 574 finds from 2006 and 2007 are shown here, as described in the database. About 448 finds from 2008 and 2009 are shown here, without an updated database. I hope you enjoy touring my virtual museum! RLD
HINT: Click on each item for detailed information and larger images!
---
Now, you can view these fossils from your mobile phone or PDA at:
www.natradioco.com/wml/foss.wml
---
Showing images from 2006-2007
Show images from 2008-2009
Show images from 2010-2011
---
Animals (Fauna): Vertebrate Fossils
Teeth (Sharks and other Fishes, Reptiles, Mammals, Dinosaurs)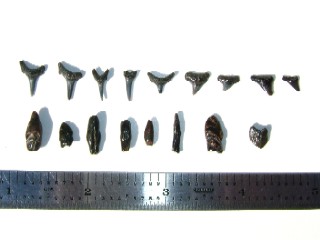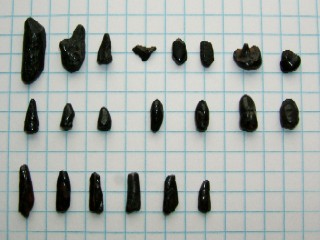 Visit www.elasmo.com for shark teeth identification, or click on this banner to try our new web-based application.

Coprolites, Bones (Sharks and other Fishes, Reptiles, Mammals, Dinosaurs)

---
Animals (Fauna): Invertebrate Fossils
Mollusk Shells (Brachiopods, Gastropods, Bivalves, Cephalopods)

Sponges, Corals, and Bryozoans

---
Plants (Flora): Petrified Fossils
Tree Wood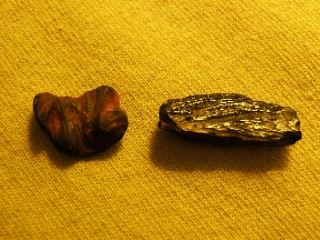 ---